Press Release for IN-COSMETICS 2023
Time : 2023-4-6 14:20:50 Come from : SINO LION
SINO LION is proud to announce the launch of its newest product-the Ultimate Moisturizer, EverMoist™ AGG-50(G), at the upcoming In-Cosmetics Global, Mar 28-30, 2023, Barcelona, Spain.
Evermoist™ AGG-50(G) is the one and only ultimate moisturizer designed for use in personal care and cosmetic products, which works uniquely on the root cause of dry skin. This COSMOS certified product is a highly pure, effective, plant-based, and sustainable moisturizing agent made by biotechnology with 100% natural origin, and it can be used in a wide range of applications. This ultimate moisturizer is truly unique and revolutionary as it works at the root cause of dry skin by uniquely regulating cellular water circulation from basal layer to stratum corneum of the skin via aquaporin protein 3 (AQP3) expression, whereas all other moisturizers treat the superficial symptoms of dry skin by either absorbing water from the environment to the stratum corneum of the skin or preventing water from evaporation from the stratum corneum of the skin. Furthermore, this product strengthens the skin barrier function by up-regulating expression of barrier-related genes-TGM1 & IVL and alleviates the skin sensitivity by down-regulating expression of nociceptive receptor-TRPV1, which make it well suited for sensitive skin. It also has anti-inflammatory and antioxidant properties. In short, it is a truly multifunctional ingredient!
The product is a result of years of research and development in our biotechnology platform, and SINO LION is excited to introduce it to the global market at In-Cosmetics Global 2023. The launch will provide an opportunity for attendees to learn more about the product's unique features and benefits and to see firsthand how it can enhance their formulations.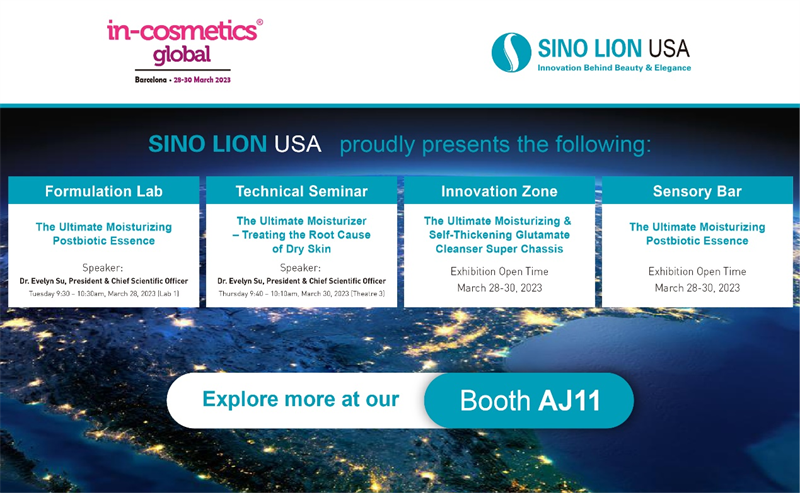 In-Cosmetics Global 2023 is one of the largest international exhibitions for personal care ingredients, offering attendees the opportunity to discover new products, formulations, and technologies. SINO LION is proud to be a part of this event and is excited to showcase its latest innovation, Evermoist™ AGG-50(G), to the global industry.
To learn more about Evermoist™ AGG-50(G) or to meet with SINO LION's team at In-Cosmetics Global 2023, please visit our booth (AJ11) at the event or contact the company directly.