ICSD (International Conference on Surfactant & Detergent) is the largest and most influential academic and technical conference in the field of surfactants and detergents. It has grown into the broadest stage of exchanges and cooperation between China and the rest of the world in the field of surfactants and detergents. The sponsors are CCIA (China Cleaning Industry Association) and RIDCI (China Research Institute of Daily Chemical Industry).

The 15th ICSD2018 was held successfully in Shanghai Guofeng Hotel from April 24th to 26th. The theme of this conference was "openness, greening, and sharing". More than 300 representatives from nearly 20 countries and regions around the world registered for the conference.
The conference was kicked off with the opening speech of Ms. Zheng Wuhong, the chairman of CCIA. Many experts and professors from Research institutes and companies from RIDIC, BASF (China), Unilever (China), Napoli University of Italy, Radom University of Technology and Humanities of Poland, US Department of Agriculture, etc., attended. They shared exciting new content on new surfactant products and technologies, the current status and development trends of the cleaning industry and so on.
Mr. Li Qingfan, the agent chairman, Ms. Gong Ping, Vice President, and Mr. Wang Changguo, technical director of Sion Lion attended this conference.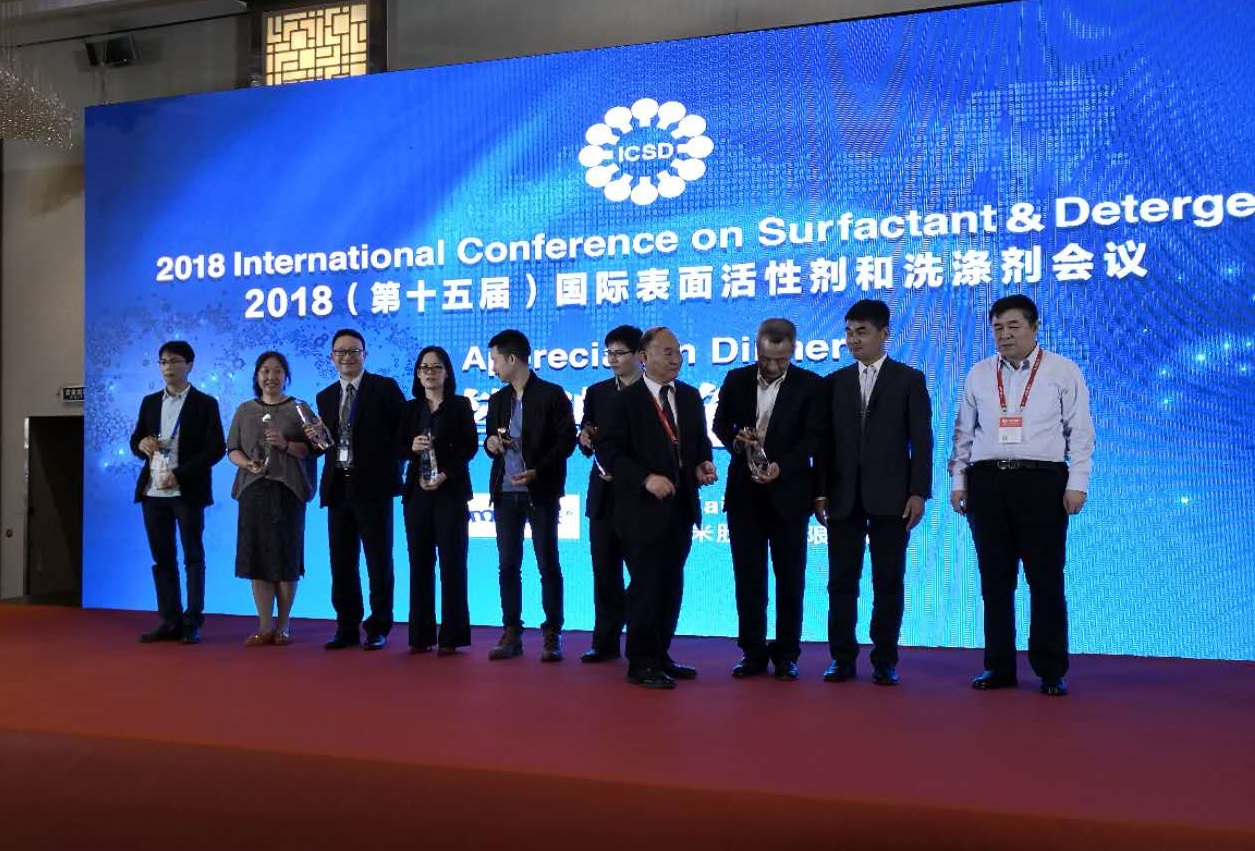 Mr. Wang Changguo was invited to give a report on "Amino Acid Surfactants and Its Application Prospects". He comprehensively introduced the performance characteristics and application direction of various amino acid surfactants, and the innovation achievements of Sino Lion over the past years. Moreover, he analyzed its rapid development in personal care and home care applications in the past few years and gave an outlook for its future application in the fields of medicine, food, energy extraction, lubricants, and other industrial fields.
Mr. Wang Changguo, who is one of the members of the ICSD Academic Committee, has made outstanding contributions to the greening and large-scale production of amino acid surfactants, and has presided over the construction of the largest automated production line of amino acid surfactants in China. He has applied for and obtained 14 Chinese and international invention patents and published more than 10 professional articles. At this conference, his paper "Performance and Application of Amino Acid Surfactants" won the "Outstanding Paper Award".
After years of innovation in amino acid surfactant science and technology, Sino Lion has become a leader in the field of surfactants and cleaning. In order to protect the quality and health of human life and to protect the green earth, Sino Lion will continue to adhere to independent innovation and industry focus, with deepening research on its amino acid technology platform.